About KMU
Business Overview of KMU
From 1991, as a pioneer of MBR market, KUBOTA Corporation has wrestled so that KUBOTA Submerged Membrane Unit® is used to treat sewage and industrial wastewater all over the world for a quarter century, we have cultivated high level of technological capability while increasing the number of applications and experience. With this strength, we offer even better support and keep responding to our customers. We are excited to offer MBR systems using the KUBOTA Submerged Membrane Unit®
KMU History
In the late 1980's, Kubota Corporation, one of the leading engineering companies in the environmental field in Japan, developed the KUBOTA Submerged Membrane Unit (SMU), which is an innovative and reliable flat sheet membrane technology incorporated into the activated sludge process.
Since then, the Kubota SMU has been used to treat sewage and industrial wastewater all over the world. Today the number of installations worldwide is greater than 5,000.
Since 2001, Kubota Corporation has contributed to the improvement of the water environment in North America. In 2005, Kubota Membrane USA was opened in order to offer even better support and to keep responding to our customers. Kubota Membrane USA is excited to offer MBR systems using the Kubota SMU.
We offer not only membrane itself but also whole swage system including membrane, control panel, blower and so on.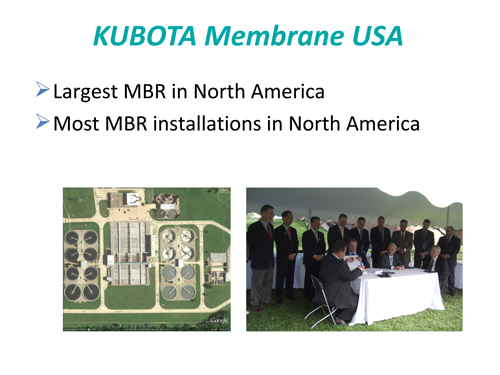 KUBOTA Membrane USA Corporation
11807 North Creek Parkway S, Suite B-109
Bothell, WA 98011
Phone: 425-898-2858
FAX: 425-898-2853